The 9 Foundations of a Healthy Building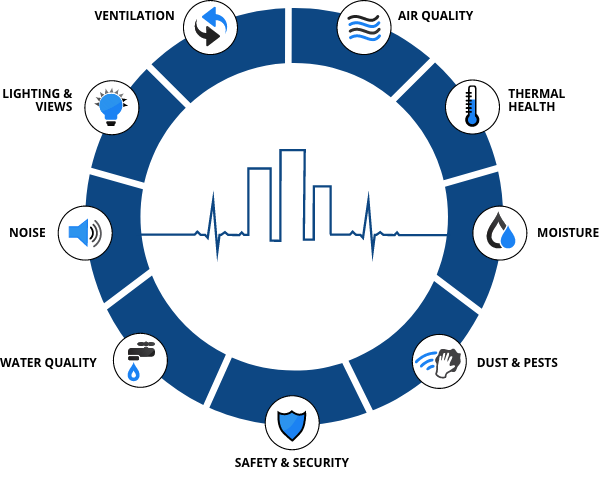 The 9 Foundations of a Healthy Building were created by a multidisciplinary team of experts from the Healthy Buildings Program at the Harvard T.H. Chan School of Public Health. The 9 Foundations are the core elements of healthy indoor environments, distilled into clear and actionable guidance, and designed to bridge the gap between scientific research and you — the people who control, manage, and occupy buildings.
---
At 9 Foundations, we are passionate about our work, serious about our role in protecting and enhancing the lives of people in the buildings of the clients we serve, committed to scientific rigor without compromise, and focused on delivering for our clients.
What is a
Healthy Building?
We spend 90% of our time indoors. And because we spend the vast majority of our time indoors, the places we work, live, innovate, heal, laugh, and play have an outsized impact on our health. It's about everything, from the air we breathe indoors and the water we drink, to the lighting and acoustics of the space. It's also about protection and resilience in the face of threats like wildfire smoke, outdoor air pollution, extreme heat, and airborne respiratory pathogens. A healthy building accounts for its occupants' physical and mental health and performance, and the impact it has on community and society health.
Scientific Excellence from Strategic Advisors
9 Foundations drives cutting-edge research into practice through custom, future-looking strategies that are always grounded in science. From due diligence site assessments to design guidance, and from real-time indoor air quality monitoring to advanced data analytic, 9F engages our clients on how to optimize a building for health.
By joining The Climate Pledge, 9F reinforces our commitment to sustainability. We believe that climate change demands urgent and universal action. 9F stands with signatories of The Climate Pledge in a commitment to being net zero carbon by 2040 at the latest across Scopes 1, 2, and 3 — 10 years ahead of The Paris Agreement. As a fully remote company, The Climate Pledge is an opportunity for us to lay the groundwork for other fully remote companies that are interested in setting ambitious climate and sustainability goals of their own.